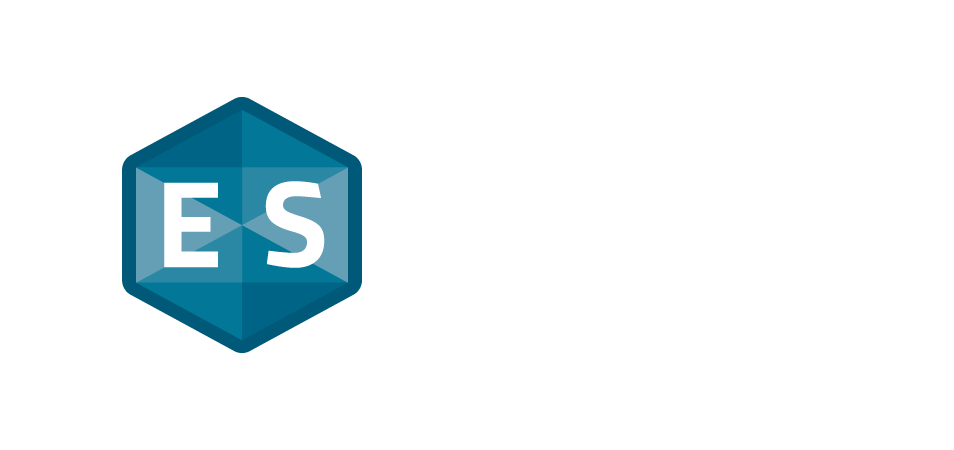 Comprehensive, fully-featured loyalty programs with supporting loyalty services​
Measure and earn lasting consumer loyalty with a proven partner

Evolve your program from a transactional rewards model, to a program that creates unique member experiences, inspiring deeper loyalty

Maximize the value of your member data to enable better personalization & communications

Efficiently launch program changes and tactics to capitalize on new communication channels, member behaviors and reward experiences

Execute a more profit focused approach to loyalty that will ensure program ROI
Maximize loyalty program performance through optimal experiences and offers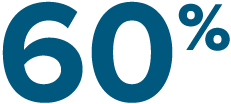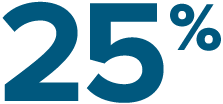 lift in transaction frequency

active member penetration
ES Loyalty Feature List
ES Loyalty is driven by a comprehensive set of features that enable rapid implementation and management of an omni-channel loyalty program
Choose from these core features:
Unified Member Database

 

Integration Technologies (APIs, Feeds, SDKs, Web Listening Tools)

 

Advanced Promotional / Campaign Engine

 

Accrual / Redemption Engine 

 

Flexible Rewards (currency agnostic – $ off, experiences, services)

 

Self-Serve Console (manage members, configure promos, reports)

 

Tiers 

 

POS Receipt Messaging & Prompts

 

Trigger / Journey Communications 

 

Multi-Currency  

 

Refer-a-Friend, Gamification & Badging 

 

Localization & Multi-Language

 

Premium / Subscription Loyalty

 

Loyalty Report Suite

 

Offer Gallery / Load-to-Card Offer Functionality
Multi-Brand Program / Strategic Coalitions

Pre-Integrated with ES Loyalty Boost (Personalized Offers for Loyalty Program members)

 

Linked Loyalty (financial partner)
Advanced Analytics Services
Exchange Solutions expert team of data analysts provide supporting services that empower our clients with insights on loyalty program performance, member lifecycle management, member profiling, share of wallet analysis, and more
Explore how our team can help:
Loyalty Program Performance
Monitoring key performance indicators and analysis of trends
Promotion impact and ROI
Campaign design and post analysis
Ad hoc analyses
Member Lifecycle Management
New member activation, growth and retention
Existing member growth and retention
Customer Journey
Advanced Analytics
Modeling and segmentation to support various marketing initiatives
Member profiling, inferences based on purchase behavior
Optimization of loyalty and marketing communications
Market Basket Analysis
Member Engagement Index
Price Sensitivity Analysis
With Non-Loyalty Data
Loyalty sales penetration
Share of wallet analysis
Basket comparisons
Loyalty Program Expertise and Design Services
Exchange Solutions provides supporting services that compliment the design and management of an omni-channel loyalty program
Learn more about these value added services:
Loyalty Program Design

 

Promotions / Campaign Strategy

 

Member Communications Management

 

Web / App Design, Construction & Hosting

 

Card Production & Fulfillment
Keep control of your program using a self-serve console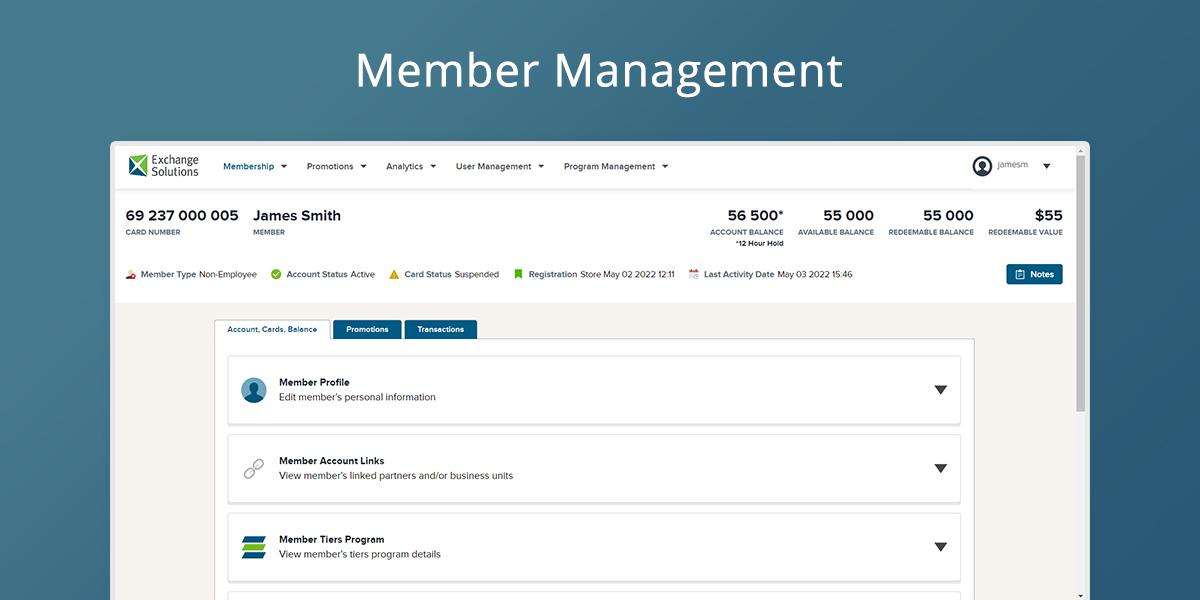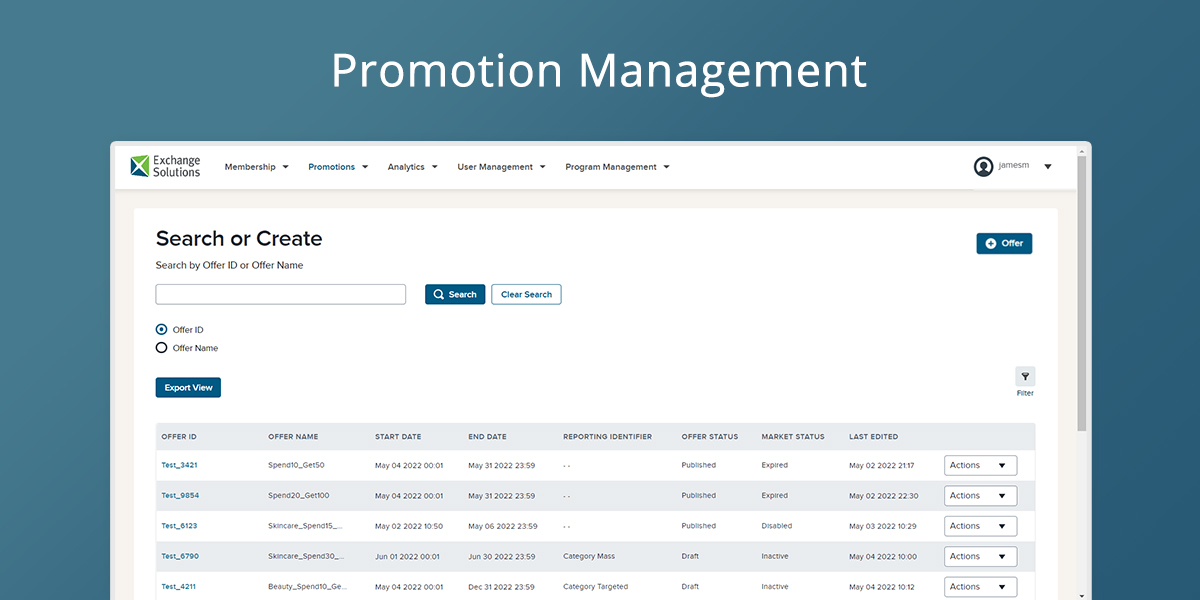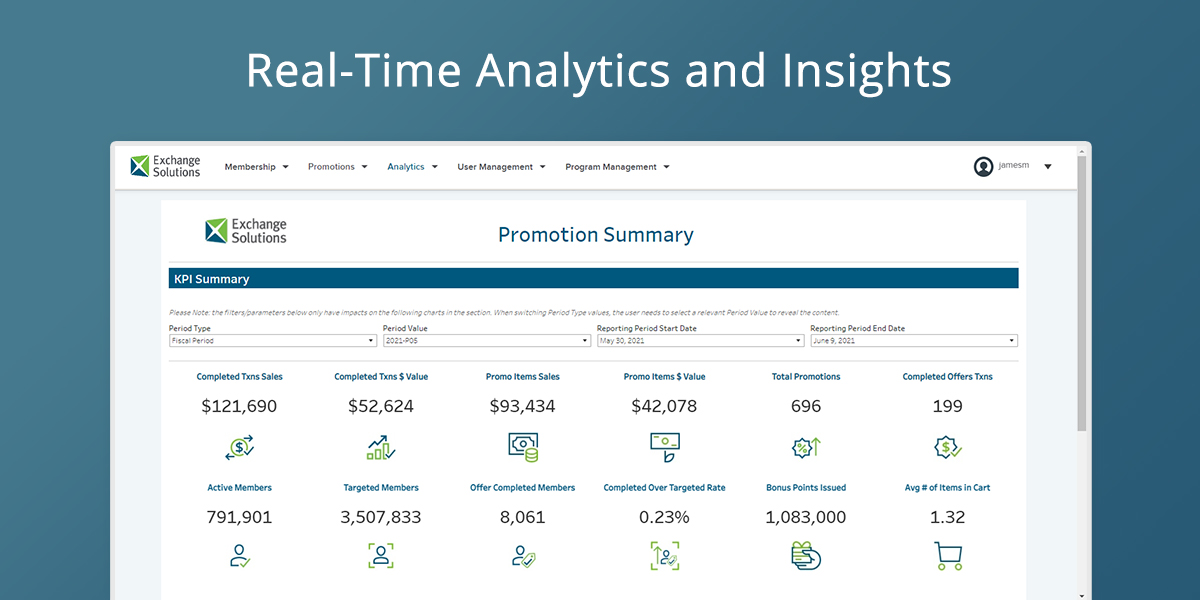 Member Management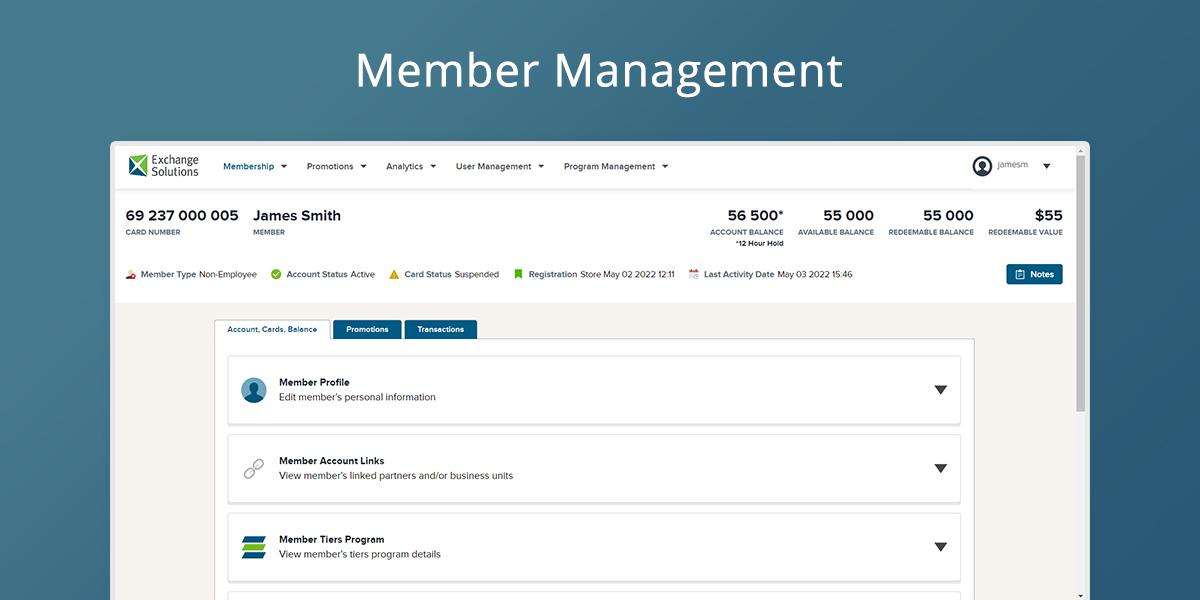 Promotion Management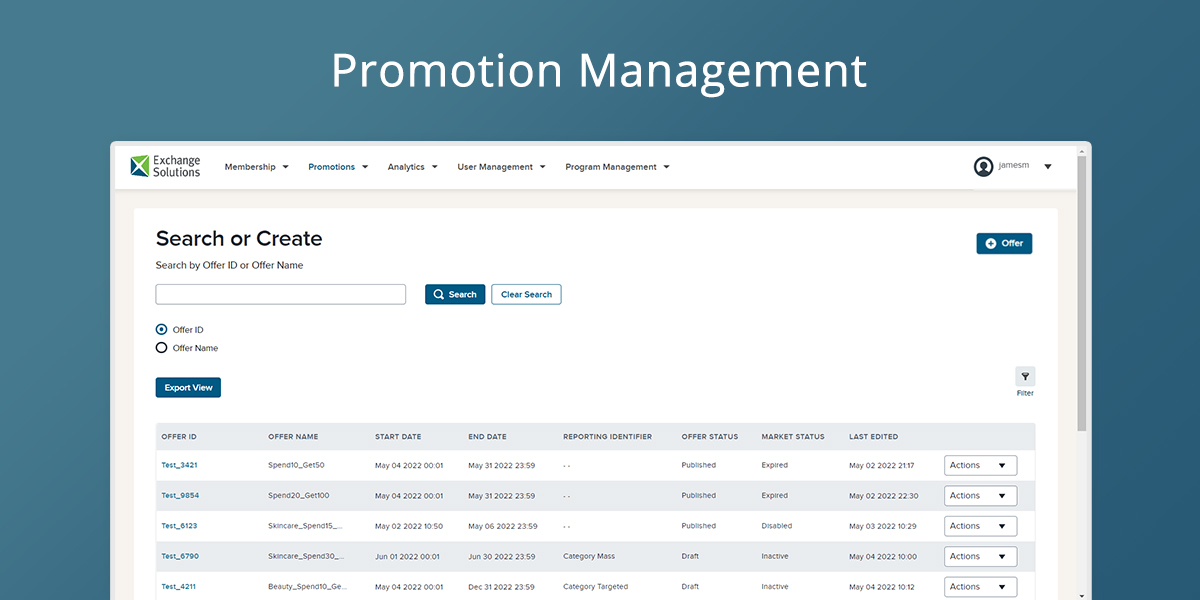 Real-time Analytics and insights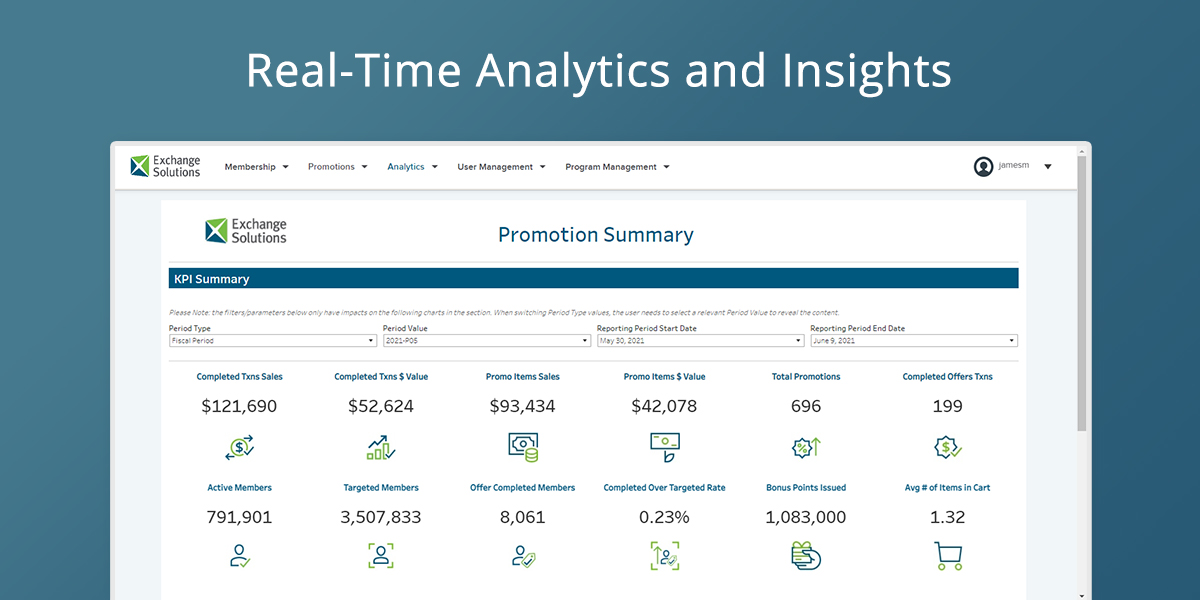 I love how intuitive the Console is! The clean and simple design makes it easy for a business user like me to create data-driven offers and promotions. Using various customer attributes, I can easily identify/size my target audience, configure an offer for this audience and hold a control group to measure the impact of the promotion. The Console gives me full control to build my offers in real-time and the flexibility to take advantage of a wide breadth of offer choices, rather than a short, fixed list. This is a best-in-class tool.
Optimized for speed to market and change
ES Loyalty supports quick activation of earn and/or burn on new behaviors and channels, enabling our clients to quickly optimize their member engagement tactics
Comprehensive loyalty solutions: tuned for retail
Exchange Solutions offers a comprehensive loyalty product and supporting services that support all forms of loyalty, membership, and rewards-style programs. Program design components, promotion engine and reporting are specifically tuned for retail. 
Enabled for strategic loyalty partnerships
ES Loyalty is backed by the right technology and know-how to facilitate complex loyalty program partnerships with goals to drive member acquisition and grow share of wallet
Supportive tech integration
Exchange Solutions does the heavy lifting to integrate into a retailer's existing technology, or we provide our turn-key Loyalty API documentation if the retailer wants to take charge
Robust promotions management and reward options
ES Loyalty supports a broad array of promotion types. It has been purposefully built for retail style promotions and has an intuitive, modern interface for promotion set-up and management.
Innovative data capture and advanced analytics
Exchange Solutions employs proprietary "listening" technologies that collect valuable member activity data to enrich member profiles. Advanced analytics tools then create more relevant offers, communications and member experiences.

Automated offer personalization
ES Loyalty also utilizes ES Loyalty Boost, which delivers automated personalized offers that generate continuous member engagement and more profitable application of promotional spend
See ES Loyalty in action. Contact us for a quick demo.